High purity Amino silane GX-550 from China
1.4180 1.4210 refractive index, nD 25 Celsius adhesion promoter organosilane amino silane
Product List

Functional




Group

NAME

Chemical Name in English

CAS NO.




Amino

GX-540

γ- Aminopropyltrimethoxysilane

13822-56-5

A-1110

AMMO

Z-6610

KBM-903

GF 96

GX-550

γ- Aminopropyltriethoxysilane

919-30-2

A-1100

AMEO

Z-6011

KBE-903

GF 93

GX-902

3-aminopropyl methyldiethoxy silane

3179-76-8

A-2100

Dynasylan 1505

Z-6015

KBE 902

**

GX-792

N-(β-aminoethyl)-γ-aminopropytrimethoxysilane

1760-24-3

A-1120

DAMO

Z-6020

KBM-603

GF 9

GX-602

N-(β-aminoethyl)-γ-aminopropylmethyldimethoxysilane

3069-29-2

A-2120

1411

Z-6023

KBM-602

GF 95

GX-910

N-(2-Aminoethyl)-3-Aminopropyltriethoxysilane

5089-72-5

**

**

Z-6021

KBE-603

GF 94

GX-1170

Bis(3-trimethoxysilylpropyl)amine

82985-35-1

A-1170

Dynasylan 1122

**

**

**

GX-1189

n-Butylaminopropyltrimethoxysilane;




N-(3-(Trimethoxysilyl)propyl)butylamine

31024-56-3

Dynasylan 1189
♠Applications and Performance
The amino silane produced by silane GX-550 is widely used in the following applications oatings, Adhesives and Sealants
The aminosilane is an excellent adhesion promoter in acrylic coatings, adhesives and sealants. With polysulfide, urethane, RTV silicones,epoxy, nitrile, and phenolic adhesives and sealants, the product improves pigment dispersion and maximizes adhesion to glass, aluminum and steel.
♠Glass-Reinforced Resin Systems
In glass-reinforced thermosets, the aminosilane enhances the flexural, compressive and interlaminar shear strengths before and after exposure to humidity. This product greatly improves wet electrical properties. Glass-reinforced thermoplastics, polyamides, polyesters and polycarbonates exhibit increased flexural and tensile strengths before and after wet exposure when this silane is used.
♠Glass Fiber and Mineral Wool Insulation
As a phenolic resin binder additive, the aminosilane imparts moisture resistance and allows recovery after compression.
♠Mineral-Filled and Resin Systems
The aminosilane maximizes the physical and electrical properties of mineral-filled phenolics, epoxies, polyamides, polybutylene terephthalate and a host of other thermoset and thermoplastic composites. Filler wetting and dispersibility in the polymer matrix are also improved.
♠Foundry Applications
In shell molding, the aminosilane strengthens the bond between the phenolic binder and foundry sand.
♠Grinding Wheels
The aminosilane promotes an improved, water resistant bond between the abrasive grit and phenolic resin binder.
1.4180 to 1.4210 refractive index, nD 25 Celsius adhesion promoter organosilane amino silane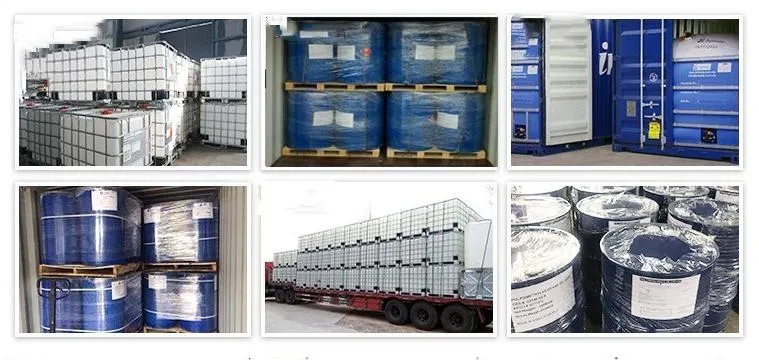 Package:
1. 25KGS/Plastic Drum
2. 200 KGS/Steel Drum
3. 1000KGS/IBC